Thursday, September 30, 2010
La Verdad Oculta EP17 09/29/2010 - 500 square meters of wealth
Aribeth
* Juan José's house
Asunción and Caramelo discuss Juan José. The little girl definitely hates the big guy and wants him to leave them in peace. The old man cheer her up by offering her a delicious breakfast.
* Genovés villa
Bertha sneaks into Mario's study and rummages his desk looking for clues about Gabriela. She finds Fausto Guillén's phone number, immediately calls him and asks for Gabriela. When Fausto unsuspectingly tells her his daughter isn't at home she cuts the call off and starts to wonder.

* Elsa's flat
While having breakfast Elsa tries to convince Juan José that the house he inherited sucks since there's no water, lights or windows. But like every other telenovela hero he's adamant and also wants to pay her back the costs of his mom's funeral as soon as possible. However, right now he's dead broke and Elsa insists on giving him some more money until he finds a job or when he sells his house.
* Ávila residence
Patchy and Dracula have coffee. Adolfo tells Félix that last night in Sagitario he had a chat with... wait for it... Leonardo Faidella! It turned out he's a friend of that idiot waitress. Adolfo feels the ailing lack of The Shoes again and decides it was all David's fault. He'll pay for it dearly!
* Guilléns' flat
Gabriela frets and fumes about what rude jerk and majadero David is. Juli thinks it's cool that he's jealous but Gabriela is so angry that when the phone rings and David asks for her she refuses to talk with him.
* Genovés villa
David is furious at Gaby's rejection. Bertha appears in the hall just the right time and just in the prettiest outfit, so David invites her to go out with him that night.

* Elsa's flat
JJ tells Elsa he met two homeless people in his house and he didn't have the heart to kick them out. And... since they've been living there for such a long time they have the right to stay, don't they? After swooning over everything JJ said Elsa has to leave for work. She gives cash to the little bit embarrassed JJ and they agree to meet in his house in the afternoon.
* Alejandra's office
Elsa gives back to Mina the money she lent her because she doesn't need it anymore. She asks Mina about the prices of houses, especially of the old, ruined villas in the southern part of the town. Wow, the houses and lots of that district are very expensive and each square meters value at least 10000 pesos. Elsa's jaw drops.
* Ávila residence
While Adolfo and Patchy are having their endless breakfast Roberto drops in. Dolphie asks him if he still wants to work for him. Of course, he needs that job! Adolfo smiles and admits he has certain businesses" that Carlos doesn't know anything about. He'll make Roberto filthy rich but in return for that he wants his complete discretion and loyalty. Rob, who seems to be grateful, greedy and frightened to hell at the same time, thanks to him for the opportunity. Adolfo leaves, Carlos arrives and tells to Roberto that David met the Guillén girls in Los Angeles. Carlos, as usual, looks like he would gladly suffocate David.
* Juan José's house
Elsa arrives, and asks JJ how many square meters is his lot? Hmm, 500, maybe. She excitedly jumps into JJ's arms and yells "You're rich!". Que? Each square meters values 10000 pesos, therefore he has 5 million pesos under his feet! Juan José's brain cells slowly process the information and when he finally realizes that he is a rich man he bursts into joyful, crazy, hysterical laughter. The hug.
* Genovés villa
Alejandra and Mario talk about their secret project. Ale'd like to know why he wants to create those stuff and Mario promises to explain to her everything in time. Right now all he can say is that this project is very important for him. Actually, it's a matter of life and death.
* Juan José's house
After the moments of happiness a horrible thought comes into JJ's mind: he won't be able to sell the house. Why? Because he may be the heir of Don Goyo but he can't dispose of his property until he registers his ownership at the Registro Publico de la Propriedad (aka and Registry). And the registry costs 17000 pesos. Dammit, it's hopeless. Elsa wants to ask for loan from Salomón (Viewerville: *headdesk*), but fortunately JJ vetos that stupid idea. He doesn't want her to make sacrifices for him, and neither wants to depend on her. He loves her as if she was his family member, for example, his sister (Elsa's face looks like she swallowed something sour), and it would be _his_ job to take care of _her_.

* batcave
Mario shows to poor Fausto the his high-tech make-up/camera room/plotting headquarters he created for him. It's kind of creepy. Fausto has cold feet again. First, one of his neighbours is a clever detective, second, it'll be hard to avoid Adolfo if his daughters continue to work in his club. Mario learns the girls didn't give up their job. Fausto tells him what happened and gives his money back to him.

* Scoundrel, Douchebag & Douchebag Law Office
Elsa and JJ visit the lawyer who tells them enthusiastically he's been working hard to free her imprisoned friend from Veracruz and he's shocked when he learns that the XXL size wrestler who accompanied his naive client is that guy from jail. Busted. JJ wants him to pay Elsa back the money he robbed for her. He sends them to hell and tells them that since JJ's been liberated conditionally if he hits him he'll be sent back to jail. JJ fumes and before leaving he "accidentally" damages some furniture. (Viewerville: *Yeah!*)

* Juan José's house
It's late night. Asunción and Caramelo arrive and notice JJ's bed. The girl becomes sad but Asunción promises her that one day they'll live in a huge house and they'll be rich.
* Genovés villa
Bertha (who looks awesome) and David leave. Mario feels week and ill and when he tries to go into his study he collapses next to the staircase. He cries over his disease and his desperate situation.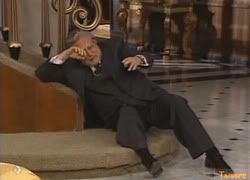 * Juan José's house
When JJ arrives the intruders are asleep. He picks up Caramelo and carries her to his bed, but both the girl and Limón misunderstand the situation. He convinces them that his intentions are decent and he only wants her to sleep comfortably.
* Club Sagitario
The golden boys sit in the bar, watch the waitresses and Carlos talks about how special Gaby is. David and Bertha arrive at the bar. While Bertha is enjoying the night David is anxiously looking for an opportunity to confront Gabriela. He wants her to serve them the beverages but Gaby, who is jealous and still pissed off, angrily says that she's very busy so please look for another waitress. David sardonically comments that the service in the bar is awful! Carlos quickly jumps and asks Gaby to follow him to his office. Blondie becomes jealous and Bertha starts to realize what's going on.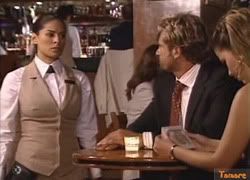 * Juan José's house
Asunción and JJ talk about Caramelo. The old beggar isn't his uncle, he found her in a trash bin when she was a newborn baby. Since he isn't his relative he didn't dare to send her to school. But he loves her so much. He asks JJ about his life. Where is he from? From Veracruz. Did he arrive Mexico City recently? Not exactly. And what about the previous owner - was he his relative? Err, no. Then how on earth did JJ meet Goyo if he was in jail? Well, because JJ was a jailbird, too. Asunción's shocked.

* Carlos's office
Carlos and Gaby talk about her career. She should be a receptionist or the captain of the waitresses, or anything else (to avoid David), but Gaby's worried about the opinion of the other employees. Carlos smiles and advises her not to think about others' opinion. His father thinks he's a useless scumbag but he doesn't care. He appreciates Gaby much and thinks she's a valuable person. Gaby melts. Carlos says he wants to be her friend. (Of course, friends with benefits.)
* Genovés villa
Mario calls Fausto. He tells him he feels sick and despairingly begs him to let him see his daughter. Fausto says it's impossible. Mario knows he's right so apologizes, finishes the conversation and continues to cry heartbreakingly.
* Ávila residence
Roberto and Adolfo talk about his future job and Dolphie repeats his words: he wants his fidelity. There were people who betrayed him but they are already dead, understood?
Aribeth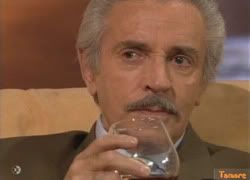 Labels: verdad
Comments:
Thanks for uploading and please excuse me for being so late.
It's hard to watch the misery of Mario and Fausto. One of them is a widower and a fugitive, the another is a dying old man who's blackmailed by an evil beast.
When will Elsa realize that Juan José. Doesn't. Want. Her?
David is a big jealous child.
Screencaps:
link
Post a Comment
<< Home