Friday, December 31, 2010
La Verdad Oculta EP74 12/30/2010 – Ridiculously good-looking folks in the seaside Paradise

* Bertha sneaks into the Genovés villa to ransack Mario's desk. When she leaves the study, she meets David and his admirers, who's just arrived back from the hospital. Busted. However, she plays the innocent girl whose intentions are purer than snow till death and leaves the house. Alejandra shows up at the stairs with a suitcase and she says goodbye to everyone.

*In the neighbouring house there's another pretty girl who says goodbye to her family. After she leaves very depressed Chicles begins asking Juan José about the sea. The big guy notices the kid's sadness and he decides that Chicles is going with them to the sea.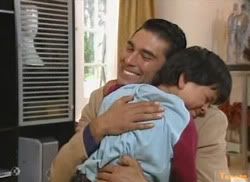 * David tells Abelardo that now he completely trusts Gabriela and he knows how stupid his jealousy was. Abelardo says his feeling were natural, there were so many people who tried to mess with his mind. Dora and Gaby enter the room and the young couple make Dora melt twice by calling her Mom and mother-in-law.
* Caramelo, uncle Mauricio and auntie Elsa arrive at Puerto Vallarta, Jalisco. Cara can't wait more, she wants to see the water! The two girls run to the beach and they look at the beautiful sea like they were standing in front of the eighth wonder of the world.

* While the girls are having fun in the water, Garnica, Juan José, Alejandra and Chicles also arrive at the hotel. Alejandra becomes very jealous when she realizes Elsa is going to spend the holiday with them and Chicles shows too much interest in Garnica's strange suitcase.
* In the Guilléns' flat Gabriela learns more details about her mother's death. Fausto tells her Adolfo did the same to Marta as he did to Gaby, he tried to use her for smuggling. Maybe she threatened him with calling the police and that's why he killed her. He begs Gaby to not tell Julieta about it but Gaby says her sister has every right to know about their past, and by the way, she's already told her everything she knows. Her father has to trust the people who love him. Fausto thanks to her for understanding and loving him.
* Late in the night the lovebirds take a walk on the shore. JJ would like to know why doesn't Alejandra want to stay with him in his apartment. Maybe because he has to work and they can't leave Chicles alone anyway? However, he can visit her anytime in her room. That sounds great! And now let's talk about her famous tiny bikinis…

* Zaida calls Garnica: guess who's she just met? Adolfo Ávila! She heard a few things about their businesses… and a letter. Garnica warns her to be careful and don't dare side with Adolfo. Don't forget, he got her out of prison! Anyway, the letter is about Carlos Ávila and Juan José Victoria's innocence, yaddayaddayadda.
* While Gaby and Dora are building the perfect mother-in-law/daughter-in-law relationship in the kitchen, FaustoMario and David talk about how strange life is. If he hadn't fleed, he would've ended up in a prison and his daughters would've been raised in an orphanage. David objects, Mario wouldn't have let that happen, he would've taken care of her. Yes, but then they would've been raised as siblings, says Fausto. Gaby comes in with dinner and FaustoMario leaves. David mentions his father is very tired, that's why they need her help so much. Gaby swears she'll do everything she can to be useful. Oh yeah, smiles David, he knows she will.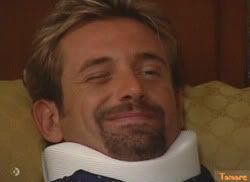 * Next morning Alejandra shows up at the swimming pool wearing one of her cute, tiny, small, little, chiquitito bikinis. Juan José eyes almost pop out of his head, and after accepting the fact that he has work to do and he has to leave his hot, sunbathing girl alone and 85% naked, he joins Garnica and Medina.

* In Mexico City Leonardo and Paulita, aka Team "We are cool, we are brilliant and we want a new wife and mommy" show up at Julieta's doorstep to ask her to join them on their entertaining father-daughter day at the funfair. Of course! While she's looking for her purse in the bedroom, Paula says she likes Juli and thinks she and her father should become a couple. Shh, shh, psst!

* The members of The Rich Club have their first official business meeting. Medina and engineer Gustamante know exactly what they are talking about, Garnica knows what he wants to achieve with the project, but Juan José doesn't understand much about the negotiations. He gets a phonecall from Asunción and they are talking about "that guy" while Garnica is listenting to his words tensely.
* Julieta and the Faidellas have a great day together. Sunshine, fun, delicious food, meaningful stares, caresses and a heartwarming hand-kiss.
* At the seaside JJ goes back to Alejandra and he admits he sucks at business stuff. Alejandra offers him her help, which he gladly accepts. Now they can be together day and night... Especially at night. Their conversation is interrupted by Moby Dick of Jalisco who wants to join Caramelo on the beach. The air freezes for a second as Alejandra imagines Juan José and his ex best friend spending time together, but JJ quickly gets rid of both her jealousy and his clothes. *Viewerville: two awesome bodies*Down on the beach they meet sunbathing Elsa *three awesome bodies* and Caramelo, whose beautiful sand castle is immediately ruined by Moby Chicles. The adults act like puzzled teenagers from high school: jealous Alejandra plays the seductive alpha female cheerleader, JJ tries to act like he isn't even there, and Elsa wishes she was on the other side of the world at the moment. Medina shows up, too *four awesome bodies but we hate that shirt*, he notices Elsa's strange expression but he manages to cheer her up by paying her sweet compliments.
* In the snack bar mini detective Paulita asks Leo about what happened to his arm. Oh, it was just an accident, a colleague of him shot him while they were practicing. Does he like his job? Very much, darling. Isn't it dangerous? Yes, a little bit, but nothing bad can happen to them in their home. Doesn't he want to return the ranch? Que? A ranch? The Faidellas tell Julieta they have a farm in the countryside and they invite her and Fausto for a vacation someday. *Viewerville: that would be Soy tu stud 2*
*After a short truce the kids bicker again – now about letters and writing. Mauricio asks Elsa about Chicles and invites her for a romantic dinner. Juan José surely would take care of Caramelo while they are away.

* Speaking of Juan José, he is in his apartment talking with Asunción on phone. The two furious kids storm into the room, and after giving the phone to Caramelo JJ tries to teach Chicles how to (and how not to) treat a little girl.
* In the Genovés villa Fausto visits his Gabriela and David. Everything goes well until Gaby asks him why he is so sure that Adolfo killed her mother. Because she ripped off his cuff-link. Does she remember the cuff-link that was stolen from their flat? And Carlos's ring? They look exactly the same. Great… But he did he got that cuff-link? He said he hadn't seen Marta dead. Es que, es que… A friend of him found it. Who? Oh, don't ask more, my child. However, this time David also encourages Fausto to tell the truth, so he confesses it was Mario who found the cuff-link. WHAT? Don Mario knew her mother?! And did he know Fausto, too?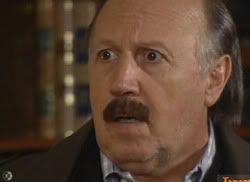 Aribeth
Labels: verdad
Comments:
Just watched the show. LOL! Gabi will not stop digging until she knows the WHOLE truth. Fausto is not going to get out of answering her easily.
By the way, loved the title. It was almost too much to bear, all those gorgeous bods on the beach and poolside.
Off to bed now. Goognight. Happy New Year!
Post a Comment
<< Home